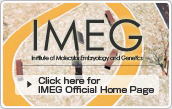 Nationality: China
Lived in Kumamoto: 3.5 years
Living cost per month: about JPY 150,000 (per married couple)
Favorite Japanese food: Sashimi, Sushi
Favorite places in Kumamoto: Kumamoto Castle, Aso area, hot springs
Housing: Renting an apartment
Daily routine: I go to the laboratory at 9 a.m. and usually get back home at 7 p.m. or 8 p.m. every day.

―What was the reason for choosing IMEG?

In China, I worked as a doctor in a hospital. I am a cancer specialist. Recently, progress is being made in new cancer treatment research, especially in Japan and U.S.A. When working as a cancer specialist at a hospital in China, my supervising professor recommended Kumamoto University's IMEG.

―How do you spend weekdays?

I tend to spend most of the day in the laboratory especially when my schedule is tight. If I have the chance, I like to go out for lunch.

―How do you spend the time at the laboratory?

Mostly, I do experiments, talk to my professor about my research project, think about new experiment designs and also do some paperwork.

―How do you spend your holidays?
Sightseeing or spending time with my friends. I have friends who are Japanese, Chinese and from other countries.

―How do you relieve stress?

When I am tired from research, sleeping in on weekends is the best (laughs). To avoid stress I enjoy chatting with my friends or a quiet walk in parks.

―Do you enjoy life in Kumamoto?
When I arrived, the new environment confused me a little. However, now I have gotten used to it and don't have any problems. As I can't speak Japanese well, I sometimes have troubles in communicating with people outside of the University. Because you can't spend 24 hours a day in the lab, I would recommend that you learn as much Japanese as possible before coming in order to make the most of your life away from the University.