Director message (April 2020)
2020.04.01 ●News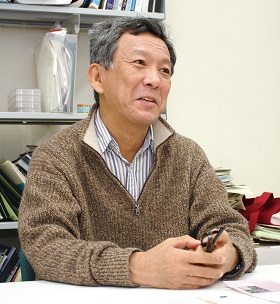 Hitoshi Niwa, M.D., Ph.D.
Director, IMEG, Kumamoto University
My name is Dr. Niwa and I am from the division of Pluripotent Stem Cell Biology. I am pleased to announce my appointment as Director of the Institute of Molecular Embryology and Genetics (IMEG). I look forward to working with you.
I entered the graduate school of medicine at Kumamoto University in 1989 under the tutelage of Professor Kenichi Yamamura of the Institute of Medical Genetics, the predecessor of the Institute of Molecular Embryology and Genetics. At that time, the Institute of Medical Genetics and the Institute for Medical Immunology at Kumamoto University were already known throughout Japan as facilities for training young researchers and also as centers of mouse developmental engineering. After receiving my degree in 1993, I spent one year as an assistant professor and then went to the U.K. to study, and after many twists and turns as many of you know, joined the Institute of Molecular Embryology and Genetics in 2015 as a professor. I never expected to be appointed to the position of director only six years after my arrival, but I will do my utmost to fulfill the responsibilities of the position.
So, what do we do? Recently, there has been concern in Japan about the decline in the vitality of basic research. This is believed to be rooted in a variety of factors, including the corporatization of national universities, the way research funds are allocated, the destabilization of young researchers' positions, and changes in researchers' awareness. It is not possible for a single research institution to solve these problems individually and fundamentally, no matter how hard it tries. However, it is no use giving up and saying that there is nothing we can do because the situation is worsening. We researchers have no choice but to do our best in our own consciousness and use our intellectual curiosity as a motivation to accumulate small but solid pieces of knowledge into the existing body of scientific knowledge. The institute's basic responsibilities are to provide an environment that promotes such individual and sound scientific research, to set up opportunities for scientific exchange to stimulate discussion, to inform the general public in an appropriate manner of the findings obtained, and to foster the next generation of human resources.
However, this alone is not enough. International exchange is often pointed out as something lacking in Japanese universities. Researchers must constantly receive information from around the world and present their research results to the world, so international exchange is a natural part of their work. However, it has been pointed out that it is difficult for researchers in Europe and the U.S. to see the faces of Japanese researchers. They have many opportunities to meet each other naturally at research meetings, etc., without being particularly conscious of it. Regardless of official collaborations such as joint research, they form close connections, exchange information, and accelerate their research. Few Japanese research facilities, however, have successfully blended into this natural flow. This is not only because of the physical barrier of distance, but also because of some kind of mental barrier. One of the goals of the institute is to remove such barriers and to create an atmosphere in which Japanese researchers can interact more freely with foreign researchers. This is true not only in Europe and the United States, but also in collaboration with research institutions in Asia and elsewhere. It would be wonderful if the Institute of Molecular Embryology and Genetics could become one of the points of contact that directly connects the world.
To this end, the Institute of Molecular Embryology and Genetics must continue to disseminate research results that are recognized around the world. I would like to express my sincere appreciation to all institute members for their continued efforts, and to those outside the institute for their continued support.
April 2020
Past Director's Messages
Ryuichi Nishinakamura (Apr 2016 – Mar 2020)
New Fiscal Year's Greeting -One Year After the Earthquake(Apr 14, 2017)
Six Months After the Earthquake (Oct 14, 2016)
Three Months After the Earthquake (Jul 14, 2016)
On the way to restoration (May 2, 2016)
Eleventh day after the 2016 Kumamoto Earthquake (Apr 25, 2016)
To all IMEG members and supporters (Apr 19, 2016)
Be smart. Stay foolish. (Apr 4, 2016)